Happy Helping Hand
In Arabic and Norwegian - hopefully in more languages soon!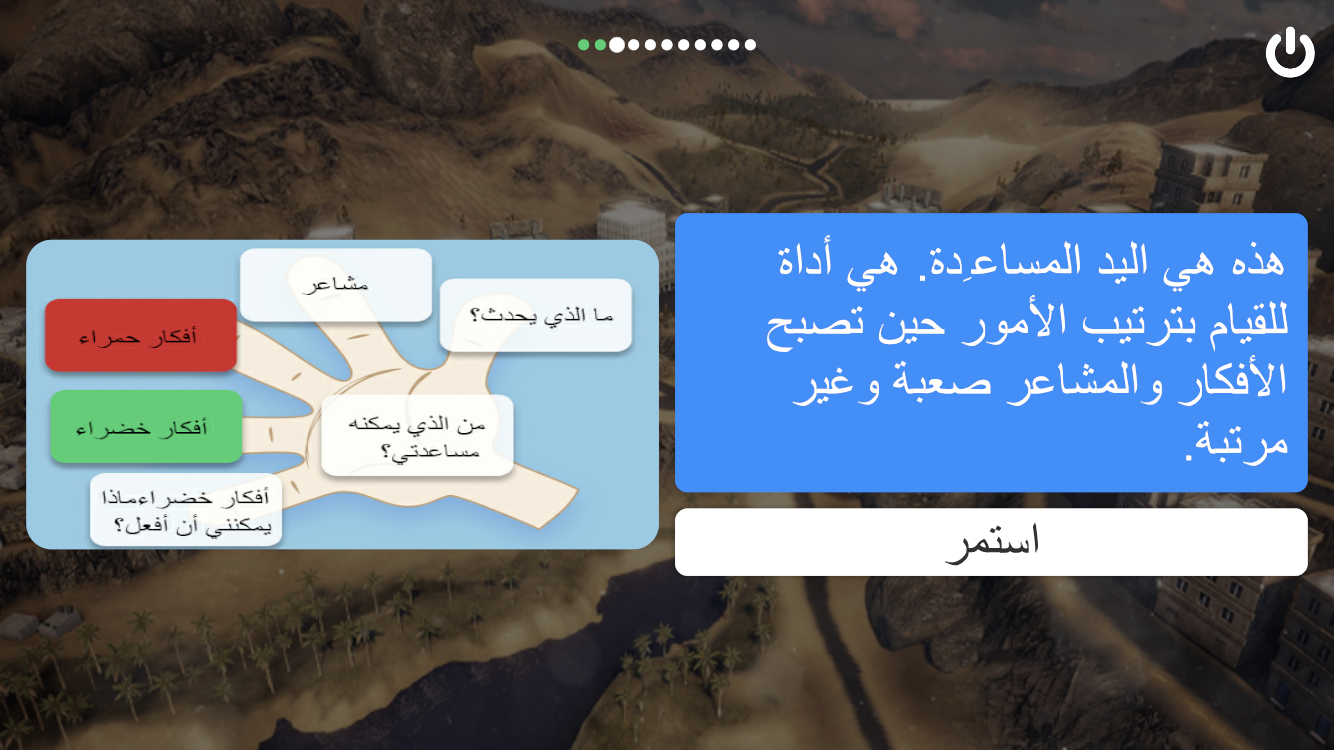 Briefly about the game - for sharing and discussing
Download the game Happy Helping Hand from Google Play and Apple store directly to your telephone or tablet! 
The Helping Hand app can be downloaded on Android and iOS devices from the Google Play Store and App Store.
In order to download the app, you need to have sufficient internet connection and memory on your device for the download to succeed. Once the app is downloaded, it can be played offline. You do not need to login or register to play the app.
Minimum device requirements:
Android: Requires Android version 6.0 or later
iOS: Requires iOS version 9.0 or later
Watch the successful launch and web-party from June 9th 2020, with the Norwegian Minister of International Development Dag Inge Ulstein, Dr. Fadi AlHalabi from MAPs, Dr Kamel Braham from The World Bank and many more here. 
We found that adolescents in Lebanon and Norway were interested in the same themes despite having very different living conditions. Both groups were interested in universal challenges regarding romantic relationships, bullying, performance anxiety, and how to be a good friend. And both groups have access to smart phones
Read about user development of the app here
The gaming app is developed by Raknes in partnership with Gyldendal (publishing), Attensi (gaming technology), Multiaid Programs and the Syrian American Medical Association in Lebanon. The project is part of NORADs Vision 2030, funded by Innovation Norway.
«We live in a world where millions of children are forced to flee from war and terror and who grow up in refugee camps under difficult living conditions. Gyldendal is proud to launch The Helping Hand and hopes it will help young people in Lebanon to improve their emotional problem-solving skills and to process trauma. The pairing of established clinical methods with innovative digital technology make this one of the most important projects for Gyldendal in 2020," said Einar Ibenholt, Director of Strategic Projects, Gyldendal.
Ultimately, it was Solfrid Raknes' long involvement with vulnerable youths which provided the backdrop for the game's introduction in Lebanon.
"By playing through scenarios on the app which require them to help a friend assert himself, handle negative thoughts, learn from painful experiences and process painful memories, the youths can acquire the skills and insights needed to mange real life. Sound coping strategies are valuable to everyone. But if you find yourself in extremely challenging situations such as refugee children do, these coping strategies can save lives," Raknes concludes. Read her speech here. 
Feedback on the Helping Hand game from adolescents in Lebanon
This game can help you to believe in yourself and stand up for yourself
Like the approach of helping the avatar - stand beside your friends
It was easy to understand how to use it
I learned that it's not to be ashamed about being a refugee
The game will change the way you think
The scenario about presentation anxiety is very relevant
This game is very well made!
I loved it!
I can use this method to solve every kind of problems
My name is Mona and I am 14 years old – a Syrian refugee in Lebanon. I have played the helping Hand game for about an hour. At first, I found it boring because there is a lot of talk and I did not understand the instructions from the first time. Gradually it became interesting and I felt happy to solve Adam's problems when Nour was ignoring him and his problem with his depressed mother. In general, I found the game interesting.
I will recommend it to all my friends!